Why Romeo Tan paid over $1.6 million for this Marina One Residences bachelor pad
May 9, 2020
Mediacorp actor Romeo Tan just hit a milestone in his life that many Singaporeans dream of: buying a condo to call home.
In May 2020, the 35-year-old celebrity announced on social media that he had collected his keys to his apartment at Marina One Residences⁠, which happens to be one of the most iconic condominiums launched in Singapore in recent years.
Looking at recent transactions for one-bedroom apartments at Marina One Residences, it's likely Romeo forked out between $1.60 and $1.65 million for his unit, which is located at a prime location in Singapore and right at the doorstep of Marina Bay MRT and the Central Business District (CBD).
Comprising a total of 1,042 residential units, the mixed-use development is designed by award-winning architect Christoph Ingenhoven, and features lush green gardens and a design that resemble stepped rice fields: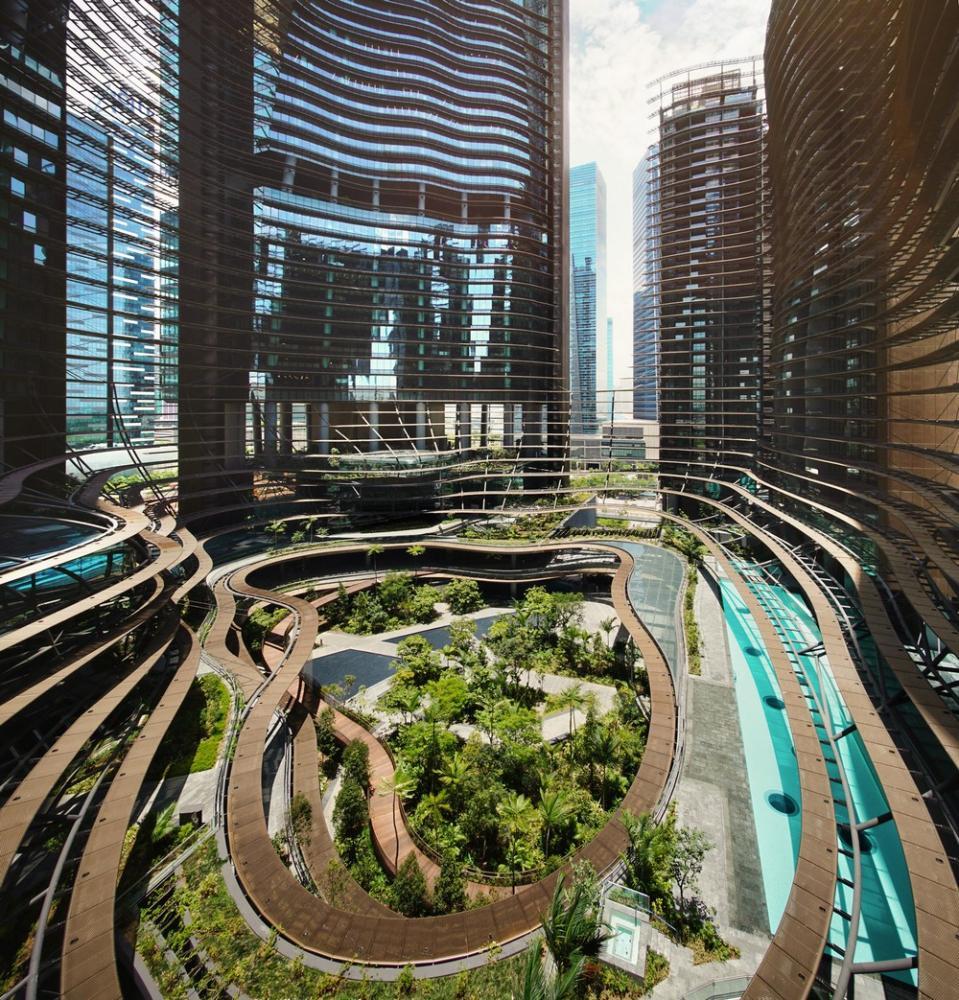 Before we go into why Romeo picked Marina One Residences, here's how his first home purchase came about:
Romeo Tan: From humble family home to luxe bachelor pad
Having made his television acting debut in 2005, Romeo Tan's first property purchase is a culmination of 15 years of hard work and perseverance. Prior to that, the actor lived in a humble four-room HDB flat in Simei with SEVEN of his family members, including his parents, two brothers, sister-in-law, nephew and niece. He also revealed to Chinese daily Lianhe Zaobao that he had shared a room with his brother since young, and had very little privacy because of that.
As an actor, Romeo also needed a quiet environment to concentrate and learn his lines. Plus, as his Simei family home was far from Mediacorp's former and current studios at Caldecott Hill and one-north, Romeo often stayed over at the home of his good pal, fellow actor Elvin Ng, because it was more convenient.
So, it was only a matter of time (and diligently saving up) before the actor, who isn't married, found a bachelor pad to call his own. And he eventually set his sights on Marina One Residences.
With his very own unit, Romeo is just minutes away by car to his workplace via Ayer Rajah Expressway (AYE). One-bedroom apartments at Marina One Residences are also generously-sized; the smallest one measures 689 square feet (sq ft), which is two-thirds the size of a typical 4-room HDB flat! Here's how the floor plan of such a unit looks like: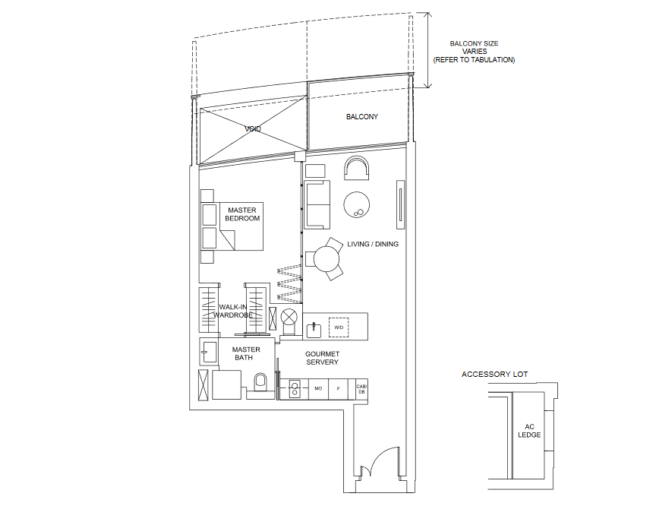 What exactly makes Marina One Residences a celebrity's choice?
We got in touch with Romeo Tan's property agent Bennington Soon, who shared with us that Marina One Residences had everything the actor was looking for. Looking at the floor plan of the one-bedder, we can instantly tell why it would be the ideal bachelor/bachelorette pad of a celebrity (or anyone who wants to live like one!)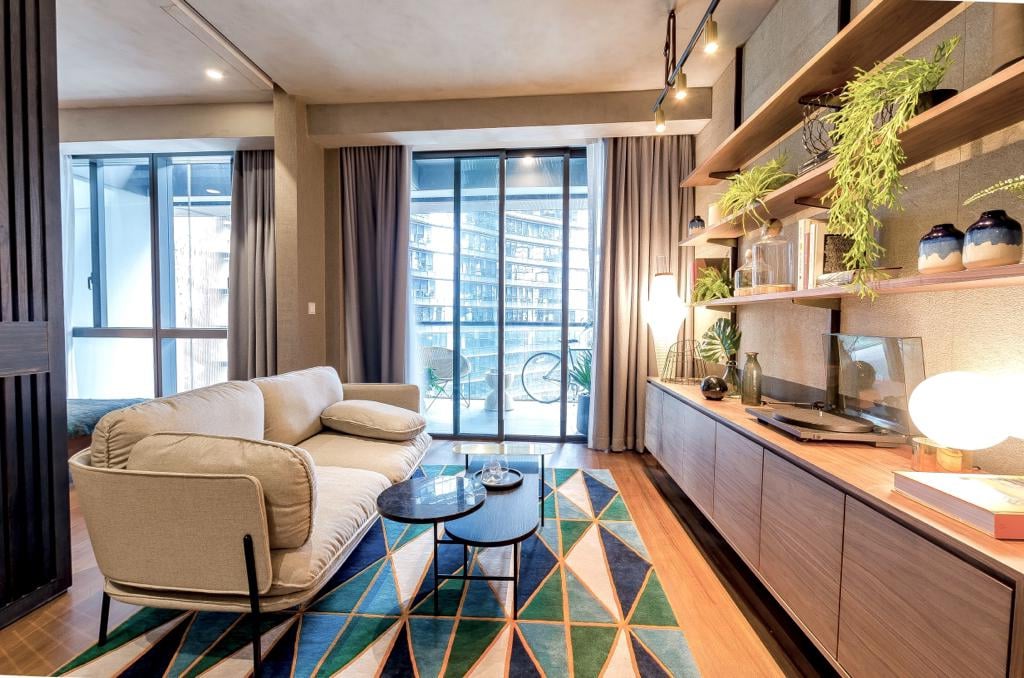 Firstly, the devil's in the details. Most new condos nowadays do not come with a bin chute within the unit, but rather have a common bin chute on every level that's shared by the units of that level. For a celebrity whose privacy is paramount, not having to venture out of the house to clear the trash was a box that needed to be ticked, we were told.
Secondly, whereas many one-bedroom units in luxury condos have tiny areas for cooking that can barely qualify as a kitchen, one-bedder units at Marina One Residences have an ultra-sleek and spacious open-concept kitchen called a Gourmet Servery, fitted out with signature German kitchen cabinets by Poggenpohl and top-of-the-line appliances by Miele.
The prep area, which faces the living and dining rooms, will be a stage for Romeo to showcase his culinary prowess and entertain his guests while he's cooking. (We might even see him host a cooking show in the near future because of his newfound culinary freedom!)
Third, the walk-in wardrobe. Any presentable celebrity should have at least double the wardrobe size of a mere mortal, but again it's rare for even a luxury condo to have a walk-in wardrobe for its one-bedder units.
Not only does the one-bedder at Marina One Residences have a runway-style walk-in wardrobe (i.e. two lines of wardrobe facing each other with walkway in between), the placement of the wardrobe—between the bathroom and master bedroom—also makes a lot of functional sense.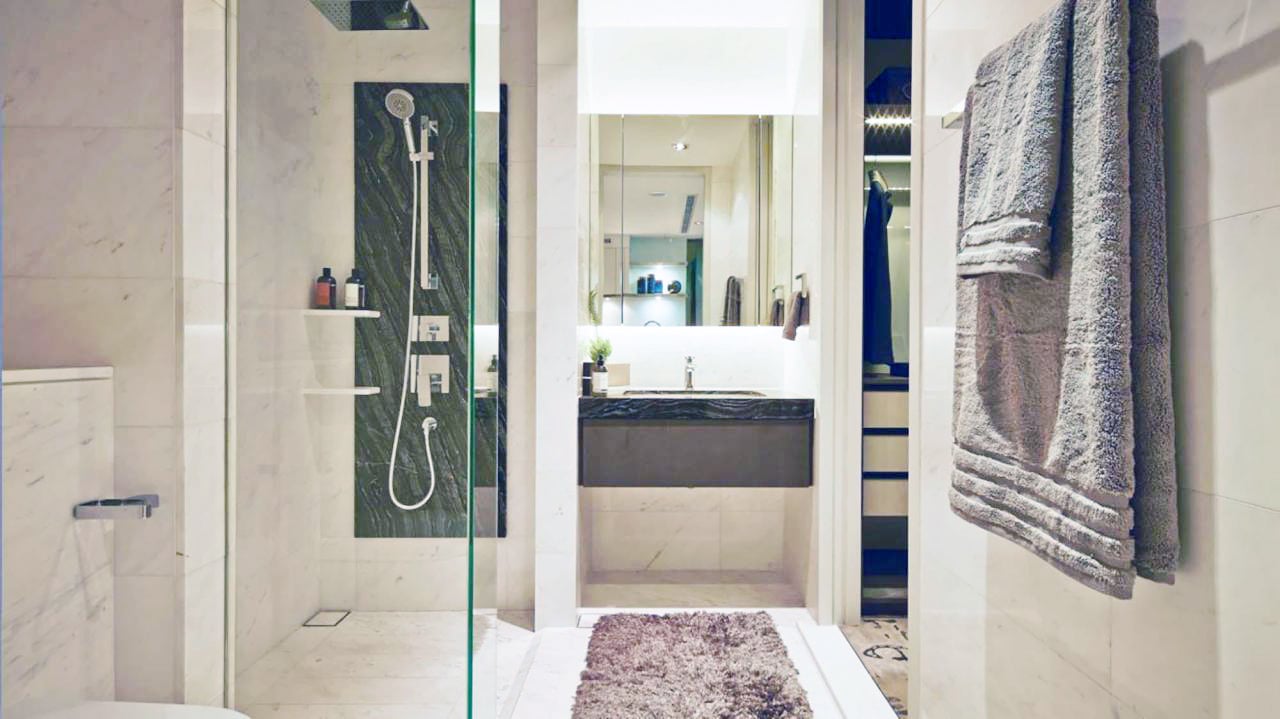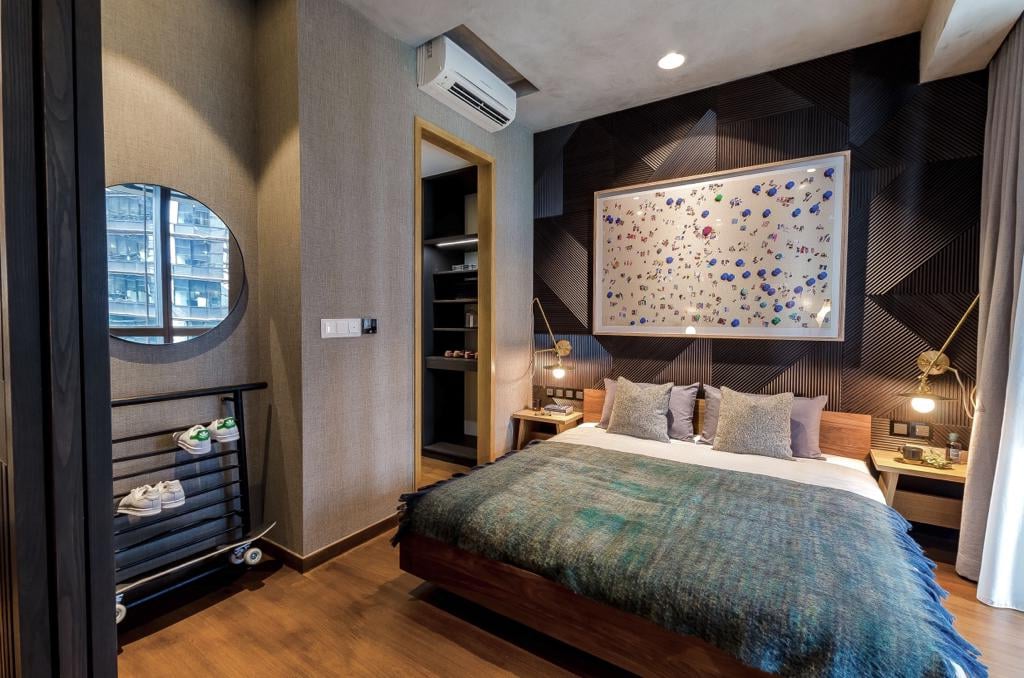 Other than the above attributes about the unit, we also like that there's enough room for a proper dining table, and the option to close/join up the space between the master bedroom and living area. Romeo's balcony also overlooks the spectacular Green Heart, a 3,700 square metre (sq m) garden at the centre of the development that's designed to resemble a rainforest valley.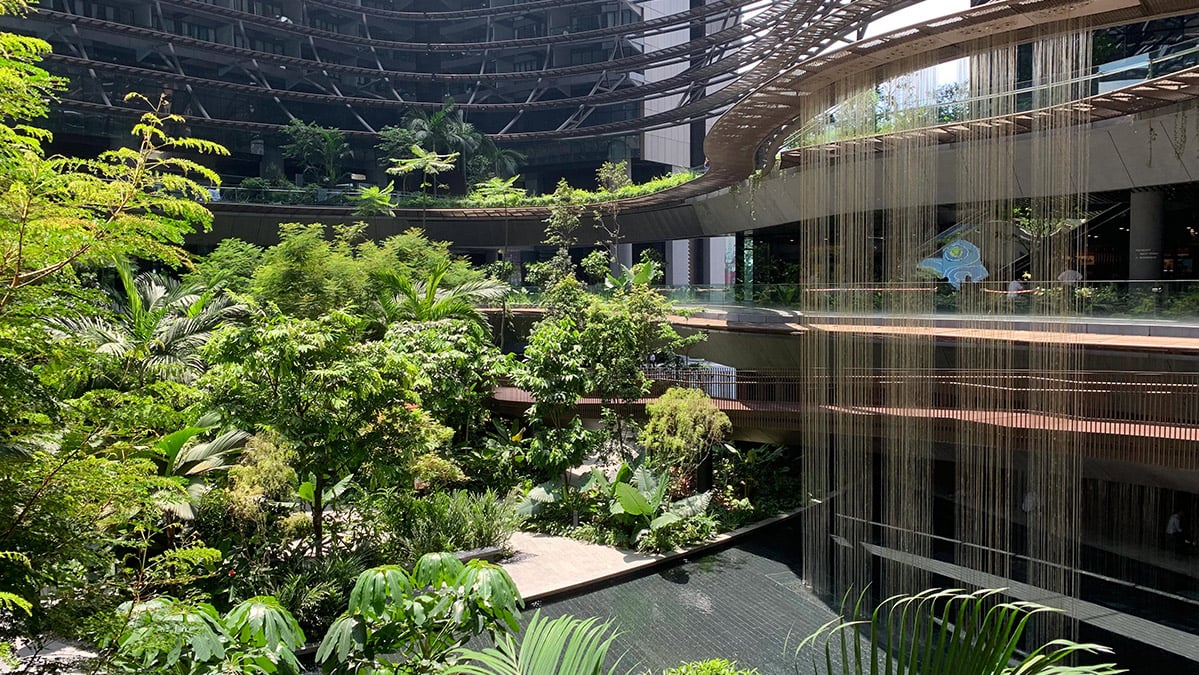 "The lobby and concierge gives a good feeling after a long day of work": Romeo
Through his agent, Romeo Tan shared with us that he loves Marina One Residences for its lobby and concierge, and we can't agree with him more. When 99.co last went there, we were greeted with a a luxurious marble clad space with high ceilings, soft piano music and also a special scent that puts residents at ease. It's certainly one hell of an arrival, even for a celebrity.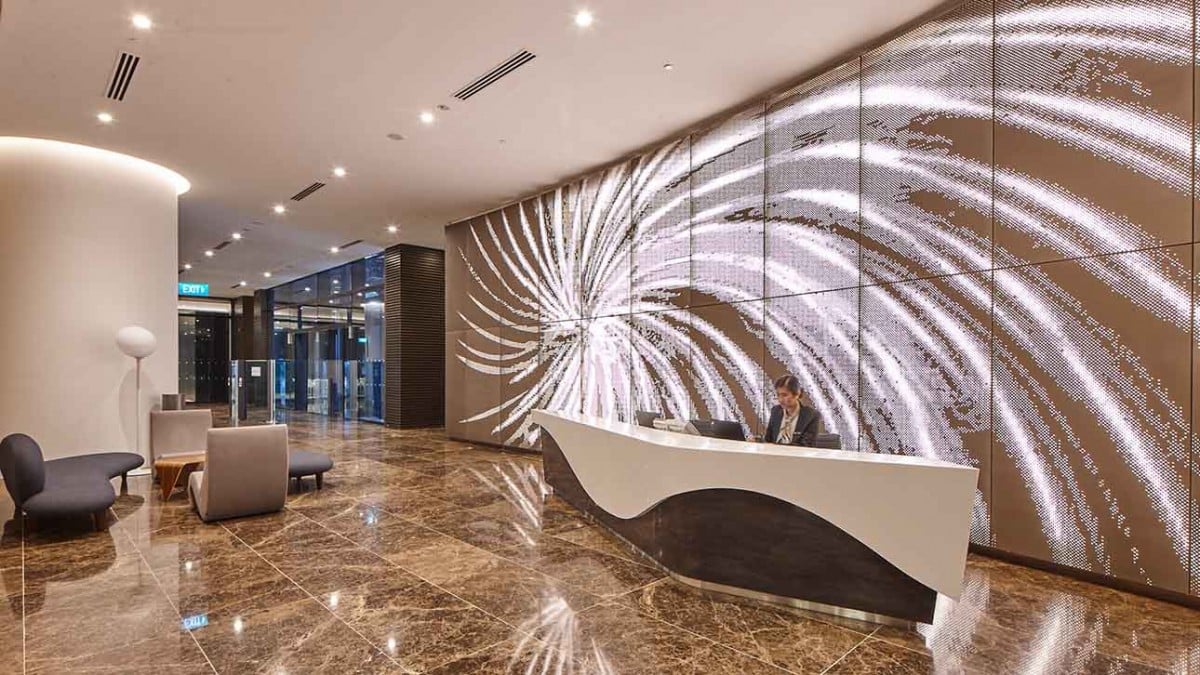 Then there's the convenience that appealed to him. Marina Bay MRT station, which is connected to the development, will become a three-line interchange where the Circle Line (which will become a full-circle by 2026), North-South Line and Thomson-East Coast Line meets. Marina One itself also has a wide-range of shops, eateries and a supermarket that serves residents and office folks in the integrated development. "Everythings just a lift ride away," Romeo quipped.
The greenery also scored major points with the actor, who clearly knows a thing or two about property. "This is the only plot of land in Marina Bay to have two gardens at the front and back of the development, which is a very unique feature for a privatised development in the CBD. And if it's not enough you can also choose to walk to Gardens by the Bay," the actor said.
Keeping fit is also mandatory as an actor, Romeo pointed out. "The big pool and well-equipped gym definitely is a key factor in my decision as well," he added.